Patient Stories.
Christina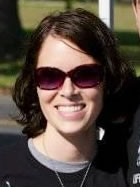 I was diagnosed with FAP (a genetic disease that causes colon cancer) when I was 23 years old. Three years later I decided to be proactive about my health and had a total colectomy to prevent my precancerous polyps from becoming cancer. Following this surgery I had routine endoscopes to keep an eye on things. After one of these endoscopes, I developed abdominal pain. A CT scan was done, showing an abdominal desmoid tumor. My doctor said that he would just do a scan every year. About 9 months later I had more pain. The CT scan showed that the tumor doubled in size (now 7cm). Six months went by before I was put on chemo. After 2 months of chemo the tumor had grown so large that I was often approached by strangers asking when I was due. After my final scan that summer, I was given a few weeks to live.

I was not ready to go. We found a doctor who removed the tumor (it was about 15lbs at this point) and with it went my uterus, ovaries, abdominal wall muscle, and all but 50cm of intestines. I was reliant on TPN (IV nutrition) for just under 2 years. There were some setbacks, and my liver started showing signs of failure from the TPN. It was then decided that I would be put on the waiting list for an intestinal transplant. Four months later I got the call.

It has been 1-1/2 years since my transplant. I am able to live my life now without worrying about getting a line infection. I can eat food and actually get nutrients from it. I'm not constantly in and out of the hospital. Before I got sick I never really understood how much is taken for granted. There is so much to be thankful for.
We don't have a long time on this earth, and I've been given a second chance at mine. I try to live everyday to the fullest. Thank you Maddalena for letting me tell my story. You are such a strong person, spreading awareness for Desmoids and organ donation. We are so lucky to have you helping us fight this fight! I never had the opportunity to meet your brother, but he must be so proud of all you have done. Thank you!
Kim Rhodes
My name is Kim, I have four children ages 2. 9, 13 and 16. In the summer of 2010, when my fourth child was just 18 months old, I noticed a "nodule" in my abdomen just below my navel. Even though it didn't hurt, I went to my doctor to have it checked out. After a first MRI where I was told it was likely "inflammation" from my fourth caesarian section, it tripled in size over the next three months. By November of 2010, it has grown to be the size of a lemon. After a second MRI confirmed dramatic growth and the word "tumor" was used to describe it, I began consulting oncologic surgeons. Two local well respected surgeons agreed that it was probably a desmoid tumor or possibly a more aggressive form of sarcoma and should be swiftly excised with clear margins. I had surgery at the end of November 2010. The surgery removed 3/4th of my left rectus muscle and left me with a scar from my navel to my pelvis and abdominal wall deficits requiring mesh reinforcement.

The surgeon said the tumor was starting to grow into my peritoneum (the abdominal cavity) - it seems we caught it just in time. The pathology showed it to be a desmoid tumor, but I was devastated to hear the margins were NOT clear. So I asked my doctor what he recommended to avoid reoccurrence.
Although I had researched desmoid tumors and knew information was sparse, I was devastated again when my doctor told me that there was no research or data available about whether any treatment: radiation, chemo or NSAIs would reduce the chances of reoccurrence. Apparently, there are not "enough" desmoid patients to justify the kind of government funded research often undertaken for more common tumors.
Maybe it seems that way - but if the desmoid patient is you or your child, parent, spouse or friend - it sure feels like "enough."

Because desmoid tumors have a high reoccurrence rate, I now have scans every 3 months. They take about an hour and a half and require an IV, but I've has two good reports and feel fortunate to be well enough to get back to my life and business as usual.

Although I was daunted by the lack of information about this disease, my feelings of helplessness and hopelessness led me to look for ways to have a positive impact for patients facing desmoids and for myself. I've been a fitness enthusiast, jogger and fitness instructor all of my adult life. So I was elated to find Lap4Life, Running for Answers and the Desmoid Tumor Research Foundation. Finding other patients and families looking for answers and willing to work together to find them gave me purpose and hope. Something about events with strong momentum and true spirit give strength. I feel so fortunate to have been a part of these fundraising events in 2011. I hope we can look forward to a future where no one faces surgery, limitations or loss of life from desmoid tumors. I am so so grateful to everyone who cares and takes part in raising funds for research.
Brianna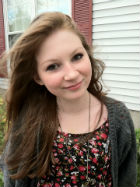 At the age of 7, Brianna was getting a routine school physical when doctors detected an irregular heartbeat. Upon further testing, she was diagnosed with dilated cardiomyopathy, the result of a virus that settled in her heart.

Between the ages of 7 and 13, she spent over 100 days in the hospital undergoing many different procedures and trying different medicines to try to control her irregular heartbeat. Unfortunately these treatments & medications would work temporarily, but never enough to completely regulate Brianna's heartbeat and the underlying cardiomyopathy would always prevail.

Over the years, Brianna's heart muscle continued to deteriorate as a result of being overworked from all of the extra and irratic heart beats and rhythms she had. During this time Brianna was fortunate enough that the rest of her body was healthy enough to compensate for her weakened heart so she never really felt sick and having a grossly irregular heartbeat became a normal feeling for her. On the surface she appeared fine but on the inside she was slowly & silently approaching heart failure. Brianna continued to attend school and have as much of a normal life as possible amid the frequenthospital stays and activity restrictions she had due to her heart condition. On June 10, 2011, Brianna was excited as it was the last day of middle school classesand the day of her eighth grade dance. Brianna went to school as usual and then went to the eighthgrade dance. It was late at night, but Brianna was feeling fine and sat down at the dining room table to do some art work. She started feeling lightheaded and suddenly went into cardiac arrest. When she arrived at the hospital, her heart function was 11%. She was in heart and lung failure and doctors were uncertain about her brain function because she had been in cardiac arrest for 8 minutes. The next few days were touch & go as her heart failure progressed and she went into cardiac arrest again at the hospital.
On June 13, 2011 Brianna had her first open heart surgery; a mechanical heart called an LVAD that would keep her alive until a donor heart became available. On June 24, 2011, just weeks before her 14 birthday, Brianna received a heart transplant that saved her life. She recovered seemlessly and was able to start high school in September with the rest of her class.

Brianna has her life back; she is thriving since her heart transplant and she is able to do all activities without any restrictions. She maintains an "A" average in school and is committed to educating people and raising awareness about organ donation with the hopes of increasing the number of registered organ donors so that more lives can be saved. One year later, on June 23, 2012, Brianna celebrated her one year "Heart-aversary" at Lap4Life, completing the 4 mile trail with ease. A very special and extraordinary day filled with wonderful people celebrating life, Brianna and her friends and family look forward to spending every Heartaversary at Lap4Life!
Sean Cadden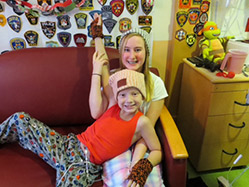 November 22, 2010 our son, Sean Cadden, was diagnosed with Acute Lymphoblastic Leukemia (ALL). It was found by chance after he broke a tooth on the playground. Three and a half years of medication, chemotherapy, lumbar punctures and bone marrow biopsies followed. In May 2014, Sean got the "all clear" from the doctors and his medical port was removed.

In August 2014, our family planned a two week beach vacation to celebrate. Upon returning from vacation, Sean complained of pain in his legs and feet. We brought him to the podiatrist and nothing significant was found. We called Sean's oncologist who suggested we test Sean for Lymes disease and mono, again nothing. A bone marrow biopsy was done to "rule out" a relapse. Our worst fears came true when it came back positive for cancer.

Treatment for this type of relapse is a stem cell transplant, more commonly know as a bone marrow transplant. Sean initially spent four weeks in the hospital from August to September undergoing high dose chemotherapy and three separate surgeries. Then the search for a stem cell donor began. The first step was to test Mom, Dad and his sister, Marijane. The doctors were not optimistic for a related match and suggested sending Sean's needs to the National Bone Marrow Registry. Finally, a glimmer of hope appeared as Sean's sister Marijane (MJ) was identified as a perfect ten-point match. MJ was scared. She endured repeated blood work and painful pre-medications in order to prepare for the harvest.

On November 1, 2014, Sean was admitted to the hospital to prepare for his transplant. He underwent seven days of more chemotherapy and an additional five days of radiation; Sean had never received radiation before. On November 13, Sean's Birthday, MJ was admitted for her big donation. Two doctors drew her marrow and Sean received that marrow the next day.

In total, Sean spent eleven and half weeks recovering in the hospital. He was released on Jan 21, 2015. He still has a long road ahead of him including twice weekly trips to the doctor and home medications including daily IV's. The doctors keep a close eye on him and on all accounts he is doing very well.